Heroin and Prescription Narcotics
Heroin is a highly addictive opioid drug. Heroin use has many medical and social consequences, including hepatitis, HIV/AIDS, fetal and infant mortality, crime and violence. Prescription opioid medications, such as OxyContin, Vicodin and Demerol, are often prescribed to manage pain; however, they can be misused and can lead to addiction with the same adverse consequences as heroin.
Local and national media reports about fatal and non-fatal opiate overdoses highlight the danger and negative impact drug abuse has on families, careers and communities. The Anne Arundel County Department of Health, in collaboration with other county agencies, community-based groups and individual residents, is working to reduce fatal overdoses and the harmful consequences of opioid addiction. This website provides information and resources for those who struggle with addiction and for their loved ones.
Like many chronic diseases, addiction can be treated. The symptoms of withdrawal from opioid drugs are not medically dangerous, but they can be agonizing. Medications are available to treat opioid addiction while reducing withdrawal symptoms and drug cravings. Taking into account co-occurring health conditions, such as mental illness, treatment can be tailored to an individual's recovery needs. Medication combined with psychosocial intervention and behavioral therapy is particularly effective, offering hope to people who suffer from addiction and to their family and friends.
Where to Get Treatment
Anne Arundel County residents who need treatment for an addiction have a number of choices. Both uninsured and insured residents can contact the Anne Arundel County Treatment Referral and Resource Line at 410-222-0117 weekdays for information about certified treatment programs.
Anne Arundel County Adult Addictions program operates two Opiate Addiction Treatment Centers, 410-222-0100 (North) and 410-222-6001 (South), that provide medication-assisted treatment.
Safe Stations: 24/7 Assistance at County and City Fire and Police Stations 
Anne Arundel County and the City of Annapolis police and fire stations are designated as safe environments for people seeking help for heroin/opioid addiction.
Crisis Warmline: 410-768-5522 24/7 Help and Support 
Additional Resources:
---
Recovering from Opioid Overdose
Survivors of opioid overdose have experienced a life-changing and traumatic event. They have had to deal with the emotional consequences of overdosing (e.g., embarrassment, guilt, anger and gratitude) accompanied by the discomfort of opioid withdrawal. Most need the support of family and friends to take the next steps toward recovery.
While many factors can contribute to opioid overdose, it is almost always an accident. Moreover, the underlying problem that led to opioid use—often a pain or substance use disorder—still exists and continues to require attention.
Family members often feel judged or inadequate because they could not prevent the overdose. It is important for families to work together to help the overdose survivor obtain the help that he or she needs. SAMHSA (U.S. Substance Abuse and Mental Health Services Administration) has created a toolkit for survivors and family members to help achieve the process of long-term recovery.
Fentanyl: WARNING
Many of the fatal opioid overdoses in Anne Arundel County in 2019 have involved fentanyl. The synthetic opioid fentanyl was introduced into medical practice in the 1960s and is prescribed as an anesthetic to treat patients after surgery and to manage acute and chronic pain associated with advanced forms of cancer. By the 1970s, non-pharmaceutical or illicit forms appeared in the United States.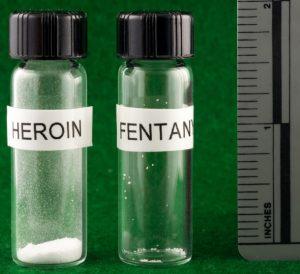 Fentanyl is 50 times more potent than heroin and 100 times more potent than morphine. Fentanyl can quickly slow or stop an individual's breathing rate, resulting in overdose or death. A pinhead size quantity can kill. Some fentanyl sold on the street is combined with heroin, cocaine and other illicit drugs creating a "gray death" mixture and increasing its potency and potential dangers. Fentanyl has been found in counterfeit pills made to look like prescription pain relievers and sedatives. It is very difficult to detect by look, smell or taste. Multiple doses of naloxone are often required to reverse the effect of a fentanyl overdose.
Possible side effects: drowsiness, nausea, confusion, constipation, respiratory depression and arrest, unconsciousness, coma and death.
Sources: Anne Arundel County Police Department; U.S. Centers for Disease Control and Prevention; 
U.S. Drug Enforcement Administration; Maryland Department of Health, Behavioral Health Administration; 
National Institutes of Health, National Institute on Drug Abuse
---
Crisis Stabilization Services (CSS)
Are you or someone you know seeking treatment for opioid use or misuse?
The Anne Arundel County Department of Health offers information, referral services and a safe community plan for anyone seeking Substance Use Disorder (SUD) treatment. Crisis Stabilization Services (CSS) are offered at no cost to individuals who are facing an opioid use crisis and are seeking opioid use treatment. The Department of Health will refer you to contracted CSS providers that are located throughout Anne Arundel County.
Individuals admitted to a CSS bed will be assessed and connected to appropriate treatment resources. CSS providers will offer up to four days of stabilization services before a person is admitted for treatment.
As part of the admissions process, an individual is:
Assessed by clinical staff
Linked with a recovery care coordinator and offered peer support services
Offered medication assisted treatment (MAT)
Admitted to opioid use treatment
For more information about the CSS referral process, call the Anne Arundel County Care Coordination Line, 410-222-0330.
For general information about SUD treatment resources, call the Treatment Referral and Resource Information Line, 410-222-0117.
---
Good Samaritan Law (Limited Criminal Immunity)
The Maryland Good Samaritan Law, effective October 1, 2015, provides protection from arrest as well as prosecution for certain specific crimes and expands the charges from which people assisting in an emergency overdose situation are immune. If someone calls 911 in an effort to help during an overdose crisis, or they are experiencing an overdose, their parole and probation status will not be affected, and they will not be arrested, charged or prosecuted for:
Possession of a controlled dangerous substance
Possession or use of drug paraphernalia
Providing alcohol to minors
Additional Information: